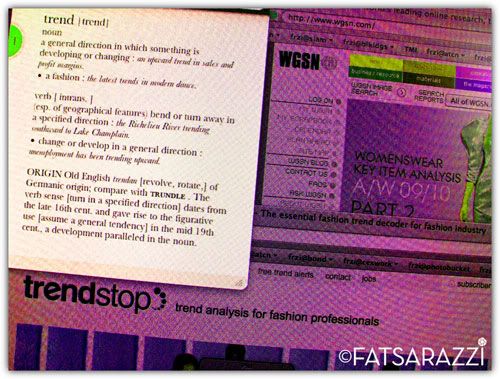 1stly can I apologise for my lack of posts here…my life has taken precedent & things are getting back to some sort of normal way forward…I will one day do an open hearted post on what I have been going through in the last few months…I digress.
Well I am back & hope to be writing a hell of a lot more stuff for all of you to see, read, laugh, take the piss out of & comment on…
I am starting with a story of a response I got for a friend of mine to an article I submitted for the guest column in Drapers, the Fashion Trade magazine here in the UK…I used to write for it, but shit just got in the way…& like here I am clawing my way back.
My article was on  'Trends & the Bottom Line', how trends effected the profits of compnaies & how much trend anaylisis can be utilised in todays climate to make more money for a clothing/fashion company, wether it be wholesaler or retailer.
As I have started to do I sent it to a friend of mine Sarah Feeney who owns 15Minutes Pr in London…a nice company, going some where big…plug, plug, plug…hey that is what i do right.
Anyway, she came back with some excellent responses that have lead me to investigate & write more on the topics hse high lighted…
Here are her responses, & take note the lady was on a train…she usually hits you off with one line bombs…but time was n her hands…
'Yeah, I think its wicked. Cottage industry, bespoke. More love, one on one, its a trend in itself that the trend spotters should also have spotted. Who are the industry trend spotters? Who predicts where the industry will go…. The future manufactures to work with, the right accounts and shops, the new marketing messages?
Not just colours fabrics and 'waist coats will be big next season'
Shouldn't this be included within the service? Perhaps not…
As your audience is half buyers, perhaps relate it back to how it fits in with the brands they sell in their shops? How their product offering could be improved by a bespoke trend service. The real bottom line, will it help them shift more clothes in the hard economic times or not?'
Good I think…made me think a little bit more about Trends etc…
Oh & if you want to read what I wrote…get Drapers
Be Well.