ellesse unveils LCF winning designs and new deadline for the Create Tennis Art competition
ellesse is now unveiling the results of a competition organised in collaboration with the London College of Fashion. The brand commissioned students from BA (Hons) Fashion Contour and BA (Hons) Active Sportswear to design a garment that reflects the brand's heritage in tennis – and the results are rather impressive!
The winner of the first prize is Eva Lai who is studying BA (Hons) Fashion Contour. Her design is a re-working of one of the brand's most iconic products, the tennis dress. The contour of the bodice echoes the curves of a tennis ball while the white lines of the tennis court sculpt the body. Layers of pleats reveal the rich heritage of the brand from 1959 to the present day whilst capturing the energy of the sport and movement of tennis players.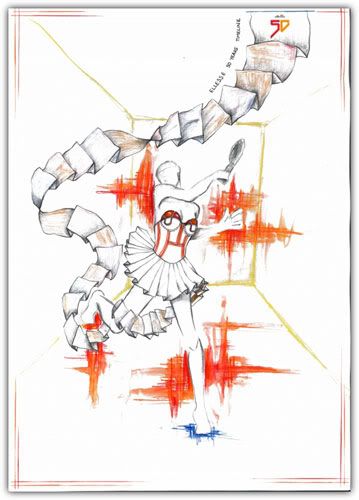 Second prize winner was Diana Auria Harris who also studies on BA (Hons) Fashion Contour. Diana's design, a structural dress with an exaggerated silhouette was inspired by the ellesse logo.
Third prize was won by Alex Green whose design was influenced by futurism and the work of Hussein Chalayan.
The winning designs will feature on http://www.ellesse.com/50thAnniversary/ and will be showed during the ellesse 50th anniversary party in Rome in July 2009.  Eva will attend the event in Rome as part of her prize and also receive £1,500 and a fully paid 3 month design-based work placement.
You too could be part of the ellesse 50th anniversary celebrations, win  €4,500 and be sent to the ellesse 50th anniversary event where your work will be on display. An opportunity you shouldn't miss…
All you have to do is create a piece of art or design to commemorate the ellesse 50th anniversary inspired by the brand's Italian heritage and sporting roots in tennis. The categories for the competition range from fashion and textiles, right through to fine art, sculpture, street art, graphics and digital.  Deadline is May 10th and all the details and application form can be found on http://www.ellesse.com/50thAnniversary/
Be Well.